Through The Years
Index
Julian's Parents
Julian's Birth
1963
1964-1965
1966
1967
John & Cyn Divorce
1968
1969
1970-1972
1973
1974-1979
1980
1981-1982
Valotte
1983
1984
1985
1985 1st Tour
Secret Value
of Daydreaming
1986
1987
Mr. Jordan
1988
1989
Help Yourself
1991
1992
1993
1994
1995
1996
1997
Photograph Smile
1998 UK
1998 OZ/Japan
1999 US
1999 US Tour
2000
2001


1966 - Lucy in the Sky with Diamonds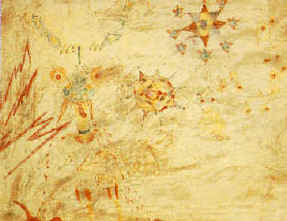 1966 - While living in Weybridge, Julian brought home a watercolor drawing (pictured to the right) from Heath House Infants' School. Julian recalls..., "I was trundled home from school and came walking up with one of my watercolor paintings. It was just a bunch of stars and this blonde girl I knew at school. And Dad said, 'What's this?' I said, 'It's Lucy in the sky!'" This became the inspiration for the Beatles tune Lucy in the Sky with Diamonds. Later, another of Julian's drawings was used as the cover to the Beatles's Christmas Time is Here Again album.

29 August 1966 - The Beatles perform their last public concert at Candlestick Park in San Francisco, California.

9 November 1966 - John Lennon is introduced to Yoko Ono at the Indicia Art Gallery.



1964-1965 The Beatles Hit The US

1967 - Sgt. Pepper's

Hey Jules Menu
'Hey Jules' and 'Through the Years' Copyright 1998 - 2001 CJ Burianek