Through The Years
Index
Julian's Parents
Julian's Birth
1963
1964-1965
1966
1967
John & Cyn Divorce
1968
1969
1970-1972
1973
1974-1979
1980
1981-1982
Valotte
1983
1984
1985
1985 1st Tour
Secret Value
of Daydreaming
1986
1987
Mr. Jordan
1988
1989
Help Yourself
1991
1992
1993
1994
1995
1996
1997
Photograph Smile
1998 UK
1998 OZ/Japan
1999 US
1999 US Tour
2000
2001


1967 - Sgt. Pepper's and Magical Mystery Tour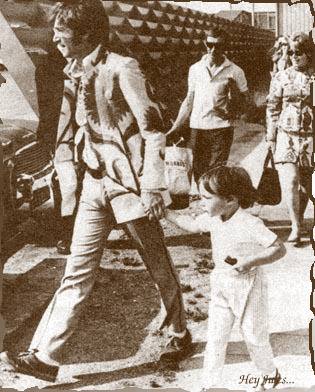 2 June 1967 - Sgt. Pepper's Lonely Hearts Club Band is released including Lucy in the Sky with Diamonds.

22 July 1967 - Picture to the left... the Lennon family heads off from Heathrow airport for a holiday in Greece with four year old Julian.

8 August 1967 - John and Julian pose for photographs at their house at St. George's Hill Estate near Cavendish Road Weybridge Surry.

September - November 1967 - The filming of The Magical Mystery Tour is done with Julian on the bus.



1966 - Lucy in the Sky

1968 - John & Cyn Divorce

Hey Jules Menu
'Hey Jules' and 'Through the Years' Copyright 1998 - 2001 CJ Burianek