The look is hauntingly familiar, and so may be the talent, as John's drummer son Julian gives rock a chance. Will he be the next Starr?
Father you left me, but I never you
I needed you, but you didn't need me
So I just got to tell you Goodbye, goodbye
-"Mother," by John Lennon
Of all the poignant moments following the death of John Lennon, few were as moving as the appearance of Julian Lennon at the Dakota apartment house.
The son strikingly resembled his father: Julian, 17, was wearing the same kind of jeans and black leather jacket his father had worn at the same age, when he and Paul McCartney were beginning their careers. On his elongated, hawk-nosed, thin-lipped face, Julian wore a pair of gold-rimmed glasses, the type that became a virtual Lennon trade mark in the late '60s. The blurry, grainy 1980 photos of Julian could easily have been mistaken for early shots of John Lennon.
But there was a deeper similarity: Both had to suffer twice the loss of a parent, once through separation, once through death. John Lennon was severed from his Mother, Julia, at age 4. Abandoned by her husband and unable to support their child, Julia sent him from their Penny Lane home to his aunt's house, just outside Liverpool. After a fitful period, the relationship between mother and son began reforming when Lennon was 16. On July 15, 1956, Julia visited the aunt's house, but Lennon was absent. While waiting for a bus back home, she was struck by a car driven by a drunk driver and killed.
On Dec. 8, 1980, Julian lost his father for the second time. Their first breach had come in 1968, when Lennon divorced Julian's mother, Cynthia Powell. The final break, came during the early hours of Dec. 9, with a phone call from Yoko Ono.
Anyone who mourned Lennon's death could only hope that Julian, who turns 18 April 8, would follow the advice once given him by Paul McCartney in "Hey Jude"--- "Take a sad song and make it better."
Julian was conceived in July 1962, in what his father was later to tell Playboy magazine was a "Saturday Night Special"-inspired solely by "a bottle of whiskey on a Saturday night."
Perhaps not so coincidentally, this was a period of gestation for the Beatles as well. Their local popularity was reaching manic pitch, and a record contract with EMI had just been signed. In August 1962 Ringo Starr finally joined the band as its drummer. In September, the Beatles' first recording session, under the direction of George Martin, took place at Abbey Road studios. On Oct. 5, their first single, "Love Me Do," was released in England, and musical history was made.
The explosion of national interest in the Beatles, however, necessitated some secrecy. Cynthia Powell, who'd. been going with John Winston Lennon since they were students at the Liverpool College of Art, had to keep her pregnancy hidden from the public. Their subsequent marriage, on Aug. 23, 1962, was a private ceremony, off-limits to the press.
Eight months later, Powell's labor pains started while she was shopping on Penny Lane, not far from Lennon's childhood home. At the same time, the Beatles' debut album, Please Please Me, was rising to the top of the British charts, where it would remain for six months.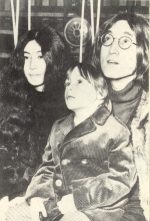 Taken to Sefton General Hospital in Liverpool, Powell delivered her baby at 7:45 on the morning of April 8. Aside from a yellow tinge to his body, caused by the umbilical cord wrapped around his neck, the child was in perfect health. A week later, Lennon returned from the Beatles' first national tour to see his son. He was named John Charles Julian Lennon-Charles after Powell's father, Julian after Lennon's mother.
The news that one of the Beatles was a married father didn't become public knowledge for six months. When the story broke, however, the effect was that of a dam bursting and deluging the new family in its flood. The Lennons, then living with Powell's mother, were suddenly submerged in a current of microphones, cameras, incessant phone calls and hysterical fans. A move to London provided some relief, until fanatical devotees and equally frenzied reporters discovered the Lennon's Emperors Gate address. The six flights of stairs leading to their apartment were soon crowded with zealots, clamoring for a glimpse of the new royal family.