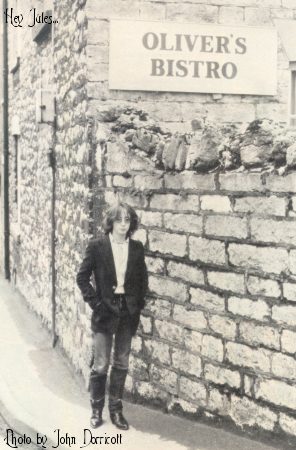 As an infant, Julian was relatively immune to this insanity. As he grew, however, the extraordinary attention began to take its toll. Powell recalls avocation on Italy's Adriatic coast, where she let Julian play by himself on the beach. "I heard him screaming, turned around and saw him in the middle of a crowd of people trying to kiss and touch him. The Beatle bambino, they called him. I quickly got him away, but the poor kid was terribly upset. That kind of thing happened often, and Julian was turning into a nervous wreck."
Taking a house outside London, in the St. George's Hill Estate, eventually gave the family a measure of privacy. In that rambling rural setting, the Lennons found their first real solace. Julian and his parents spent quiet evenings with such friends as comedians Peter Cook and Dudley Moore, the latter later gaining film fame for his pursuit of a perfect "10". Christmas was celebrated at home in the company of Ringo and George Harrison. Powell remembers Julian "sitting on the floor, shouting, laughing and playing with the mounds of wrapping paper and ribbon."
Yet the marriage itself was unraveling. Maturing as an artist, Lennon was also maturing as a person - developing new interests, friends' and tastes, and leaving his college love behind. "The differences between us were making life unreal," says Powell. "I had to fight desperately to maintain unity in the family. It was the only way for Julian to understand and accept security."
Lennon began drifting, paying less attention to his wife and son. "I don't remember seeing him as a child," John told an interviewer shortly before his death.
Among Lennon's new tastes, the most damaging from Powell's point of view was his partiality for psychedelics. For him, acid liberated insight and heightened creativity. For her, acid unleashed fear and exaggerated insecurity. Their final trip together, during the summer of 1967, took place at Beatles manager Brian Epstein's country home. "Absolute disaster," is how Powell describes it. "John ignored me and kept glaring at me as though he didn't know me. And in a way he didn't. That night I realized we'd become different people. I'd found what I wanted in life, while he was still searching. We couldn't communicate anymore."
One person who could communicate with Lennon during this time was a Japanese-American preconception artist, whom he'd met in 1966. In Yoko Ono he'd found a soul mate, though their mating remained purely platonic until late 1967. As Powell tells it, she returned home after a vacation to find Lennon and Ono dressed in bedclothes, casually eating breakfast. Powell moved out and again took Julian to the Adriatic, planning to think things out. While in Italy, she heard from a mutual friend that Lennon wanted a divorce.
To get custody of his son, Lennon initially planned to sue Powell for adultery. When it became apparent that Ono was pregnant, however, he dropped the petition. Instead, Powell charged adultery and filed for the divorce.
In 1968, while waiting for the court decision, Powell was visited by Paul McCartney bearing gifts. He'd purchased a red rose for her, but he'd written a song for Julian - a message of hope and assurance titled "Hey Jude."

Julian and Justin Clayton's band performing in a neighboring club.
McCartney may have worked some magic. Following the divorce, granted in November 1968, the bitterness between Powell and Lennon was tempered. While, the father didn't exercise his visitation rights frequently, the occasions on which he did were free of hostility. In time both he and Ono, who were married in 1969, were able to attend Julian's birthday parties in comfort. The boy seemed on his way toward a normal life.
"I always encouraged John to see Julian," says Powell, who by this time had also remarried. Her second husband was Roberto Bassanini, whose parents owned those hotels on the Adriatic shore. Their marriage lasted three years . "I felt it would be positively cruel," continues Powell, "to keep a father from seeing his son."
But there was little opportunity for Lennon to see Julian. Trying to find Ono's daughter, who'd been taken from her by her ex-husband, Lennon and Ono moved to the United States in 1971. Over the next few years, a long series of legal battles with Yoko's former husband, and with the Immigration and Naturalization Service, occupied much of Lennon's time.
© 1981 US Magazine