Through The Years
Index
Julian's Parents
Julian's Birth
1963
1964-1965
1966
1967
John & Cyn Divorce
1968
1969
1970-1972
1973
1974-1979
1980
1981-1982
Valotte
1983
1984
1985
1985 1st Tour
Secret Value
of Daydreaming
1986
1987
Mr. Jordan
1988
1989
Help Yourself
1991
1992
1993
1994
1995
1996
1997
Photograph Smile
1998 UK
1998 OZ/Japan
1999 US
1999 US Tour
2000
2001


1970 - 1972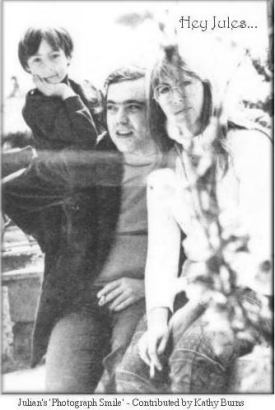 1 August 1970 - Cynthia (30) marries Roberto Bassinini (27 - Pictured to the left with Julian and Cynthia), the son of an Italian hotel owner at the registry office in Kensington, England. Julian was a page during the 10 minute ceremony. In an 1982 interview in the New York Post Julian said, "(Roberto) was great fun to be with. I lived an ideal life between them (Cynthia and Roberto) and John and Yoko, but it ended when Mom's marriage broke up" in 1974.

August 1970 - John and Yoko move into Tittenhurst and Julian visits on the weekends. He is quoted in Kalia Lulow's Biography as saying "Every Friday a chauffeur driven car would pick me up and take me down to Dad's place in Ascot."

3 September 1971 - John and Yoko moved to New York City.... John never again touches England's soil. From this point forth Julian must fly to the US to see his father.



1969 - John & Yoko

1973 - Father & Son Reunite

Hey Jules Menu
'Hey Jules' and 'Through the Years' Copyright 1998 - 2001 CJ Burianek