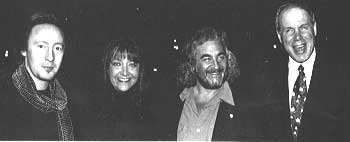 Julian Lennon at the Mr. Holland Opus Premier
18 January 1996 - Julian attends the LA premier of Mr. Holland's Opus at the Cinema Dome followed by a late supper party in the parking lot.
31 May 1996 - Julian is reported to have attended the 1996 Music Awards in Monte Carlo.
19 September 1996 - Julian anonymously purchased over £55,000 in "family heirlooms" at a London auction. The items bought included a piece of paper containing information and a few drawings by Paul McCartney on the song structure of Hey Jude, 3 postcards sent to Julian by his Dad in 1970 and one from 1979, and the half-eaten brass apple from John's Austin Maxi which was crashed in Scotland.
5 December 1996 - Julian, Sinead O' Conner, and Algeria's Cheb Marri perform at an UNESCO sponsored concert entitled "Together in the World Accomplices Against Intolerance" marking UNESCO's 50th anniversary.