In 1974, Julian attended boarding school at Kingsmead, Hoylake. It was here at Kingsmead that Julian met his best friend Justin Clayton. (Shown below with Julian (L))
The classes in Kingsmead were quite small incorporating military training with music and general courses. Julian and Justin spent most of there time out of lessons in the gymnasium storeroom where they were allowed to keep their instruments and where the Gym teacher, Mr. Wynn, taught them and a few other boys how to play rock and roll music on the guitar. - Thanks D.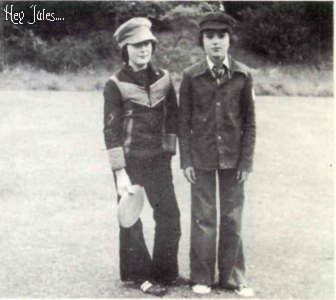 While at Kingsmead, Julian and Justin Clayton they formed a rock 'n' roll group. At their debut performance playing in 1975, for a school entertainment evening, Julian played a Les Paul copy guitar covered with mirrors baring the inscription "To Julian, Happy Christmas," a gift from his father when he was eleven. In a 1998 interview on JAM TV Julian recalls: "I decided to put a band together in school. It was at one of those little parent days, where they can see what the students did over the year. And I said, 'okay let's make a song'. And unexpectedly the school said, 'okay, you can go on stage.' The song that we wrote wasn't a song, it was actually more a Shakespeare-sonnet, and I wrote the music. It was very bizarre. I don't know how old I was, maybe about 14, 15 or 16 years old and we played it on stage. And getting this immediate response from the audience of what you do - there was nothing like that. As soon as you get this energy from the audience, doesn't matter how nervous I was before, I knew - why should I sit in an office or draw or cook, let me do this (Jules plays air-guitar), this is just great, you know - it was a fantastic feeling !"
July 1974 - Julian takes the SS France over to New York with Tony King and Elton John to visit his father, who was then living with May Pang in New York recording "Walls and Bridges." Elton John reported after the trip that "Julian was a dream. He waited for us outside our staterooms and escorted us to the dining room, always made sure we had good seats at all the events on board." During this visit, Julian got see Paul and Linda McCartney and was recorded playing drums while his father is singing Ya- Ya This take can be heard on the "Walls and Bridges" album where the credits read "starring Julian Lennon on drums and dad on piano and vocals." May Pang says in her book Loving John that when Julian first heard himself on the album he asked his dad... "Why did you do that? If I'd known it was going on the album I would have played better."
December 1974 - Julian returns to New York to spend Christmas with his dad and May. He attends George Harrison's concert at Madison Square Gardens then heads to Montauk, Long Island followed by West Palm Beach and Walt Disney World in Florida before spending Christmas in New York. A few months later John and Yoko reconcile and learn they are expecting Sean Lennon.
9 October 1975 - Julian's half brother Sean Taro Ono Lennon is born at New York Hospital on John's 35th birthday.
In 1978, Cynthia remarries again. This time to electrician John Twist. Julian didn't like him..."He was a real pain. I tried to do everything he didn't want me to do, so there was a lot of fighting. I'd often run away in the middle of the night and go to Justin's," Julian admitted. "He was much stricter than Dad or Roberto and didn't have the same sense of the crazy." To escape connections with John, the Beatles and Liverpool, the new family moves to Ruthin, North Wale, a small medieval town overlooking the River Clwyd, and opened a bistro.
When Julian goes on to school in Ruthin, North Wales, Justin goes elsewhere, but the friendship endures. Julian says, "It was too early for us to think of anything definite, on those lines. We were too busy at school and when I went to Ruthin, Justin went elsewhere. So we weren't able to continue making music during school-days."